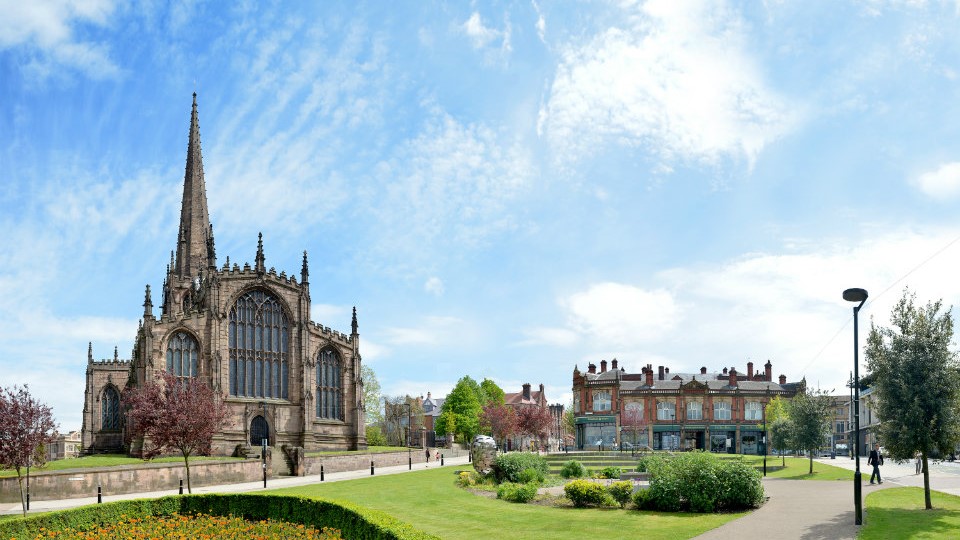 Relax and soak up the outdoors, in the beautiful open spaces within Rotherham town centre. Sited amongst the independent cafes and bars, historic buildings and unique local shops, outdoor spaces promote mental well-being as well as being a place where people can come together.
Public realm improvements are being made across the town centre and include Bridgegate with its colourful oversized planters, and new seating and lighting scheme on College Street. Frederick Street is currently being improved, and Howard Street will be developed in the Summer.
The town centre is home to many of the town's buildings dating from the 18th century to the early 1900s. For stunning architecture, you only need to look up. At the heart of the town centre, enveloping the stunning Rotherham Minster, Minster Gardens with its Heart of Steel is the perfect place to sit with a cup of coffee and the morning paper, whilst around the corner resides All Saints' Square, with its gentle water feature and on-street cafés.
Just a short five-minute walk from the Minster, award-winning Clifton Park is nestled on the edge of the town centre with 54-acres of landscaped gardens, splash park, small woodland, museum and play parks.
More green spaces are being developed in the town centre with the new Pocket Park on High Street - called Snail Yard as it resides alongside the quaintly named Snail Hill. Seating and trees will decorate the grass covered terraces whilst timber-clad pods will serve food and beverages during cultural events, welcoming families and visitors to the town.
Forge Island, which sits between the River Don and South Yorkshire Navigation Canal, will host a new cinema and restaurants. High-quality landscaping has been created next to the canal, and the leisure facilities will be set within an attractive square with a new pedestrian bridge over the river connecting the island to the wider town centre. The planned Riverside Gardens will transform the landscape between the Minster and Forge Island.
New ampitheatre seating means visitors to the town will be able to sit with fantastic views of the river and the new fish pass; if you are lucky, you might even see salmon swimming up the river for the first time in 200 years, Otters, or the island's resident cheeky heron looking for a bite to eat!